Take 2... Northern California. This time, Momoko and I focus on the natural scenery.
Gloria (Silver Crescent's new name, surely an outgrowth of too much painted doll furniture) and I have been having photographic adventures since Saturday, but I think it's good to start (over again) with natural scenery.
The Peninsula is between Silicon Valley and San Francisco. Along it runs a scenic highway, 280 (parallel to the overcrowded, jam-packed urban highway 101). On 280 are scenic overlooks; this one looks out over the San Andreas lake, which is directly above the San Andreas fault line. I nearly ran over some deer trying to get to the overlook - and no, I didn't stop for photos with them
(I had more than my fill of deer in Japan).
Gloria with 280 and the setting sun in the background.
A glimpse of the lake... just a glimpse. It's hard to see.
Fog rolling in from the ocean, over the hills that rise at the edge of the San Andreas Fault line. Notice those hills are green? That's because the fog and occasional rain keeps them green. You will see that the REST of this area is not green.
There are many "microclimates" in this area. If you drive around the Peninsula, you will find some cool and foggy areas, and some desert-y areas. These mountains mark the boundary between cool fog zone and desert zone, as well as a massive sleeping earthquake fault line
Oh, and notice the grayness of the sky... that is smoke.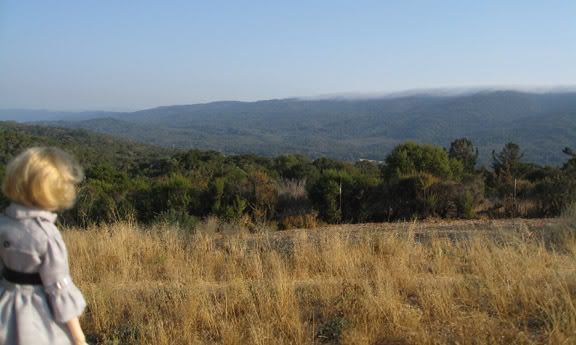 A prickly flower lining the path... the wind is blowing quite hard. The thorns on these suckers are painful :P
To a Momoko I think those thorns would be fatal
The wind is gusting and the sunset light is bright....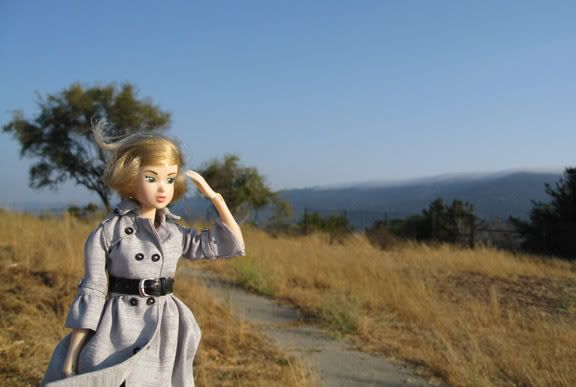 Parking lot... "Why do I suddenly feel so small and insignificant?" says Gloria.
Yes, "Don't Trash California"... indeed.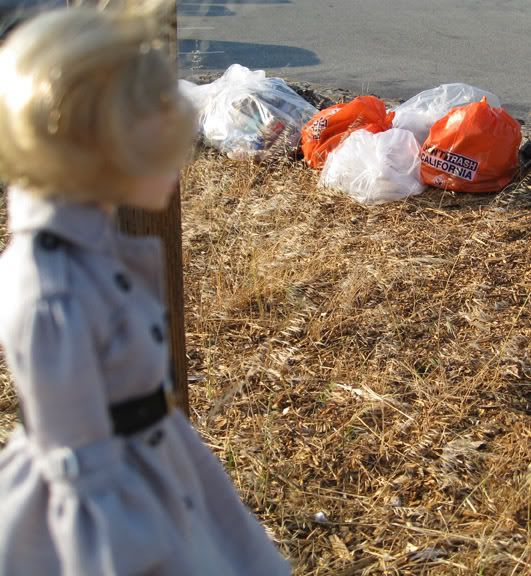 Gloria: "That was fun - what's next?"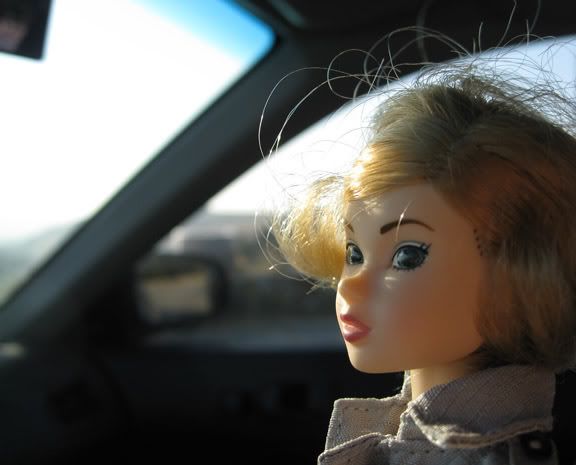 Gloria: "My hair is a mess from the wind, but ready to roll!"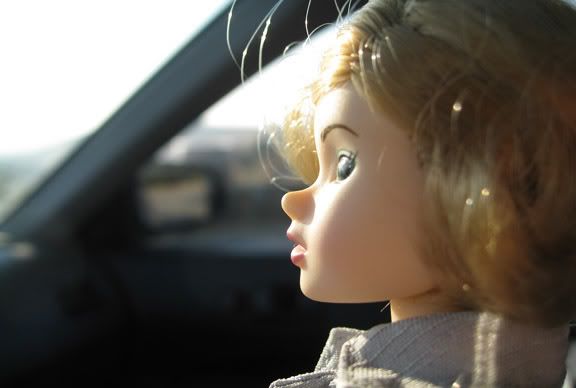 Road home (280 still)... look how dead the grass is (yes the yellow/brown is grass, not dirt). This is why most of California is having wildfires (yes, the sky is hazy with smoke)... most of California is dead and dry in the summer.
These are the golden hills ... or more like, dead, brown hills.
Oddly enough, it's the color of Gloria's hair....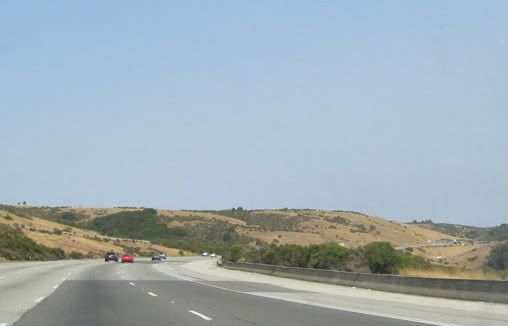 Hey, look, it's the Stanford University radio telescope! Wonder if it can see anything through the smoke haze?